Regular price
$39.99
Sale price
$29.99
Unit price
per
Sale
Sold out
Free Shipping & Return

Money back guarantee 30 days

Fast & Reliable support
Smooth feet. At home. In minutes. 
Our Smooth Pedicure Wand is designed to deliver results instantly. Get salon quality pedicure in the comfort of your home, without pain or sensitivity.
Professional-grade pedicure at home
Get silky smooth feet within minutes
Easily remove calluses and dry cracked skin
Ergonomic – Smooth those hard-to-reach areas easily, like heels, toes, sides, and balls of feet.
Efficient – With dual-speed and two heads, fine and coarse, you're ready for any kind of treatment.
Rechargeable – Forget about batteries, just plug it into any USB adapter and you're set for weeks.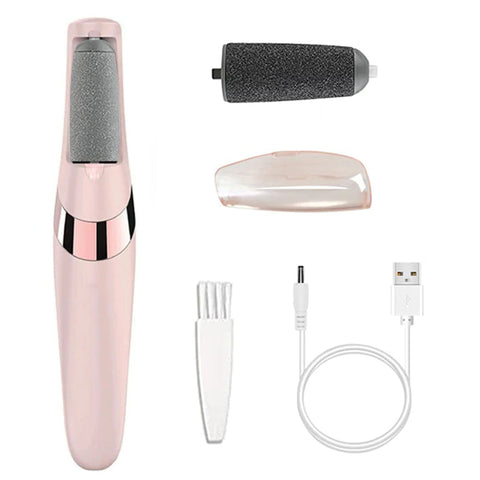 ✅ How to Use
Before every use, make sure your skin is dry, the wand is properly charged, and turned off.


☆Make sure you remove the protective cover from the roller before starting.
☆Choose and Insert the correct head/roller for your precise need.
☆Fine roller head for polishing.
☆Coarse roller head for grinding stubborn calluses and dry cracked skin.
☆Multiple other heads included for manicure needs.
☆Set the desired speed either low for polishing or high for grinding power.
☆It is recommended to start at a low speed and gradually increase the speed as needed.
☆Begin with a gentle application on a tiny area of your skin, to avoid skin sensitivity.
☆Do not press the roller hard on your skin, instead let it do the job with slight pressure.

That's all. Sounds easy, right? That's because it is. And here's some suggestions to make sure you and your beloved device keep in great shape.

- Never use on wet skin.
- Clean the wand and rollers after each use with the brush, then rinse with tap water.
- In case you get any allergic reaction or feel discomfort, stop using immediately! 
✅ Details & Specifications
✔️ Dimensions: 4.96 x 1.65 x 8.74 inches
✔️ Weight: 3.5 oz
✔️ Battery: 600mAh Li-ion (rechargeable)
✔️ Charging: Via USB Cable
✔️ Output Power: 3W
✔️ Input Voltage: 5V1A
✅ In the Box
✔️ 1x Smooth Pedicure Wand
✔️ 1x Fine Roller Head
✔️ 1x Coarse Roller Head
✔️ 1x Charging Cable
✔️ 1x Roller Protective Cover

✅ FAQs

☆ Is it powerful enough to remove dry rough skin?
Yes, it is. It has two power modes, Low (1500 RPM), High (2000 RPM) for you to select from depending on your skin. Fit on the Coarse roller to remove hard skin.
☆ Where can I use the Calluses Remover?
With its inbuilt rechargable battery, you can use it anywhere. It is portable. It also comes with a light so you can use it in dim lighting.
☆ How do I charge the Calluses Remover
It comes with a USB cable where you simply need to plug it to a power cord. One charge will last for weeks!
 ☆ Can it work when charging?
NO, you need to charge first, for the first time use, you need to charge 4-5 hours, that is to say, when the red light is on, it is charging and cannot be operated, but when the white light is on, it's not charging and can be used normally.
☆ What if it doesn't work on me?

We offer money back guarantee. If you are not happy with the product please contact us and we will organize your refund.
View full details